The first book that comes to mind when you think of tearjerker books is, of course, the extremely popular John Green book: The Fault in our Star. So after reading that book, you cried. But it wasn't enough, and you want more. Well, here I am to recommend more books to make you tear up!
1. Never Eighteen by Megan Bostic
Austin Parker is on a journey to bring truth, beauty, and meaning to his life. Austin Parker is never going to see his eighteenth birthday. At the rate he's going, he probably won't even see the end of the year. The doctors say his chances of surviving are slim to none even with treatment, so he's decided it's time to let go. But before he goes, Austin wants to mend the broken fences in his life. So with the help of his best friend, Kaylee, Austin visits every person in his life who touched him in a special way. He journeys to places he's loved and those he's never seen. And what starts as a way to say goodbye turns into a personal journey that brings love, acceptance, and meaning to Austin's life.
This book is pretty similar to TFioS. There's a kid dying of cancer but before he dies, he wants to 'mend the broken fences in his life'. And so begins his journey to do it. And of course there's the love interest who also had to 'suffer emotionally' (if you know what I mean) at the ending of the book. So in short, if you're looking for books with cancer kids to make you cry, this one is for you.
2. Ways to Live Forever by Sally Nicholls
"My name is Sam. I am eleven years old. I collect stories and fantastic facts. By the time you read this, I will probably be dead."




Sam loves facts. He wants to know about UFOs and horror movies and airships and ghosts and scientists, and how it feels to kiss a girl. And because he has leukaemia he wants to know the facts about dying. Sam needs answers to the questions nobody will answer. "Ways To Live Forever" is the first novel from an extraordinarily talented young writer. Funny and honest, it is one of the most powerful and uplifting books you will ever read.
Another book with a kid with cancer but this time, it's told in a child's perspective. Sam is an eleven year old boy but because of leukaemia, his life is cut short. Despite that, he is very positive in his outlook on life and decides to do a bucket list for he passes on. I quote him:
"There's no point having wishes if you don't at least try to do them" Innocent yet heartwarming, you should definitely try it, even if its written in an eleven year old's pov.
3. All Fall Down by Sally Nicholls
A deadly contagion races through England...




Isabel and her family have nowhere to run from a disease that has killed half of Europe. When the world she knows and loves ends forever, her only weapon is courage.




The Black Death of 1349 was the deadliest plague in human history.

All Fall Down

is a powerful and inspiring story of survival in the face of real life horror.

From the synopsis, you can already tell that it's a story about a deadly plague. It's sad, it's heartbreaking, it's awful that many people had to die. Our main character, Isabel, was caught in the midst of this plague and had to witness the horrifying deaths of people she knew and did not know all around her. What else can be more heartbreaking than that?



4. The Storyteller by Antonia Michaelis
Anna and Abel couldn't be more different. They are both seventeen and in their last year of school, but while Anna lives in a nice old town house and comes from a well-to-do family, Abel, the school drug dealer, lives in a big, prisonlike tower block at the edge of town. Anna is afraid of him until she realizes that he is caring for his six-year-old sister on his own. Fascinated, Anna follows the two and listens as Abel tells little Micha the story of a tiny queen assailed by dark forces. It's a beautiful fairy tale that Anna comes to see has a basis in reality. Abel is in real danger of losing Micha to their abusive father and to his own inability to make ends meet. Anna gradually falls in love with Abel, but when his "enemies" begin to turn up dead, she fears she has fallen for a murderer. Has she?
At first glance, it doesn't seem like a book that would make you want to snatch up some tissues to soak up your tears. Sure enough, it isn't a story of dying kids, but of kids with psychological problems. And if you're thinking that it's the typical 'bad boy and good girl helps each other' plot, you're wrong. Right off from the start, they did not have an easy friendship. It's dark, it's twisted, but you'll crave for it all the same. Personally, it was a hell of an emotional roller coaster ride. I got frustrated, I got angry, and then I wanted to bawl my eyes out like a baby. And after the lost page was turned, this was how I felt:
So yeah. Try it.
5. Champion by Marie Lu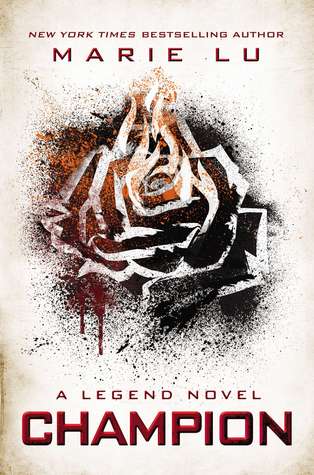 He is a Legend.
She is a Prodigy.
Who will be Champion?




June and Day have sacrificed so much for the people of the Republic—and each other—and now their country is on the brink of a new existence. June is back in the good graces of the Republic, working within the government's elite circles as Princeps-Elect, while Day has been assigned a high-level military position.




But neither could have predicted the circumstances that will reunite them: just when a peace treaty is imminent, a plague outbreak causes panic in the Colonies, and war threatens the Republic's border cities. This new strain of plague is deadlier than ever, and June is the only one who knows the key to her country's defense. But saving the lives of thousands will mean asking the one she loves to give up everything.




With heart-pounding action and suspense, Marie Lu's bestselling trilogy draws to a stunning conclusion.
What made me tear up was the ending. It's more of a dystopian thriller book to be honest, but OMG THE ENDING.
It's not a tearjerker book but yeah. I suggest starting the trilogy right from the first book because then, you'll get to understand and empathize with the character more. When you reach the end of the end of the trilogy YOU WILL NOT REGRET BECAUSE IT WAS THE BEST DECISION OF YOUR LIFE.